C2V July 2020 Notes from the Trenches
Welcome back! This month we start with a look into the future from a 2020 perspective 🔮
In the late '60s, the future was plastics 🥤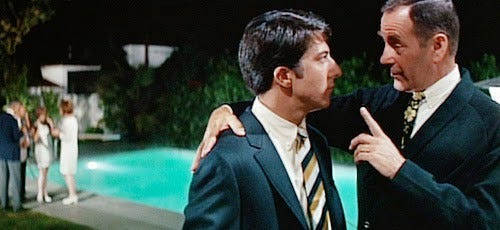 In the '80s, it was all ball bearings 🛹
Today? Robots 🤖
Our Newest Investment: The Worst Video Game Ever!?
We're thrilled to announce our 9th investment in Somatic, a robotics company that is addressing productivity stagnation that dates back centuries, as they pioneer the automation of one of the least desired and least efficient human occupations: commercial bathroom cleaning.
Plagued by high staff turnover, frequent quality control issues and high costs, commercial bathroom cleaning is an area ripe for innovation, and Somatic has taken up the mantle with their fleet of autonomous robots which offer a repeatable, consistent work product at a 50% cost savings with little to no human intervention required.
Somatic's robots start by creating three-dimensional maps of a building's bathroom designs, which the company's proprietary software then uses to identify the various fixtures and assign the appropriate cleaning tasks while optimizing workflow based on each layout.
The robots are also trained to use the building's elevators, navigate to and from each bathroom (including opening and closing doors), and return to maintenance rooms to refill cleaning products, dispose of waste, and hook themselves into their chargers at the end of their shifts.
The first few deployments will have onsite human handlers to address any unforeseen issues, but the company expects to quickly move its customer service staff offsite where specialists are trained to remotely take control of robots for any troubleshooting that can't be addressed by the onsite cleaning companies (what the company fondly dubbed "the worst video game ever" in a recent TechCrunch feature).
The need for remote intervention is also expected to be minimal, as the permanence and consistency of bathroom fixtures lend itself extremely well to AI-driven software guidance.
C2V Capital Partners Fund Performance
As we close out our current fund, we wanted to provide an update on the performance to date. We're very happy with traction we've gained, and would like to thank all of our partners, LPs and portfolio companies who have helped us achieve the results outlined below:
40+ LPs, including many new great additions such as Sean Cohan, Jeremy Hlavacek, Nick Johnson, and Chris' former co-founder at appssavvy Michael Burke.

10 investments made from a pool of 350+ companies

$2MM in cash deployed

2 markups in the fund already

15 direct investments into our portfolio from our investors

Founder testimonials blowing us away
Elsewhere in C2V Land
It's been a busy stretch since our last newsletter. In case you missed anything, here's what's been happening.
Say Cheese
Our portfolio company Rens has absolutely been killing it! The sustainable footwear company out of Finland made a live appearance on Cheddar. You can watch a snippet of the interview here. This comes after recently being featured on national TV in Germany. Wunderbar!
Inside Prospective
In a recent Business Insider article (paywalled), C2V lent their perspective on advertising and marketing startups poised to take off in spite of the Coronavirus, including commentary on Beeswax and Magellan AI.
State of Early Stage Venture Capital
"The U.S. venture market as a whole was extremely strong in Q1... We saw about $34 billion invested in about 3000 companies"
But what happened when COVID hit? Check out C2V's perspective on the state of early-stage venture capital by watching a clip from Chris' fireside chat at The 614 Group's Brand Safety Summit.
Super Powers Podcast
Since our last newsletter, we've released two new episodes.
Our 10th Investment
…Slow your roll, you eager beavers! We'll be making that announcement next month so be on the lookout for our August newsletter!
As always thanks for reading and putting up with Matt's old-school movie references! For those not in the know, he was referencing The Graduate and Fletch. We value your feedback, so please let us know if you have any suggestions, ideas for improvement or opinions on the type of content you'd like to see. Until next time!

And remember you can always keep update between newsletters by following our social channels: